Our dependency on smartphones and tablets has increased to such an extent that we cannot think of spending a day or even an hour without them. But, unfortunately, the more we make use of our smartphones, more quickly does its battery dies. While leaving our house, we wish that the battery of our smartphone lasts a full working day. To solve this annoying trouble of running out of battery, handset manufacturers like Honor vs Xiaomi, Asus and OnePlus though, have introduced value for money Power banks or portable chargers. Problem arises when we have to choose one out of innumerable Power Banks available in the market. If you are confused about which power bank to buy, don't worry and check out this post to find the best power banks in India and make the right decision!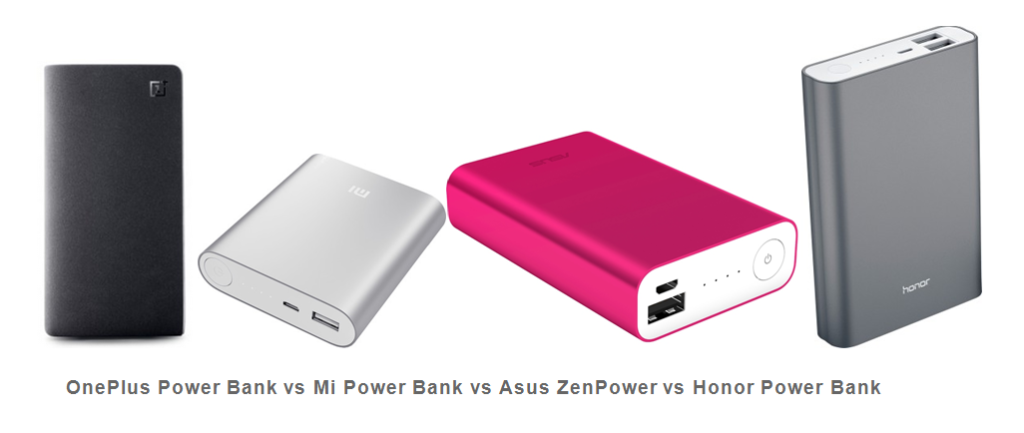 Best Power Banks In India
There are a variety of power banks available in the market varying in capacity, sizes, colors etc. Several handset manufactures namely, Honor vs Xiaomi vs Asus vs OnePlus have recently launched their power banks in the Indian market. Let's have a look on their key features to help you decide which one would be the best for you.
1. OnePlus Power Bank
The OnePlus power bank with 10000mAh capacity is available to buy exclusively from Amazon.in at Rs. 1,399. It comes with safety features to prevent overheating and overcharging. This power bank also flaunts its sleek and stylish design.
2. Xiaomi Mi Power Bank
Xiaomi Mi Power bank comes with 10,400 mAh battery capacity. Priced at Rs. 999, it is available to buy from Flipkart.com.
3. Asus ZenPower
Asus ZenPower is touted as world's no.1 credit card sized power bank. It comes with 10050 mAh battery. Output that it offers is 2.4A. According to the company, it can charge a smartphone with 1500mA, 2000mA, 2500mA and 3000mA battery capacity 4 times, 3 times, 2.5 times and 2 times respectively. It can also charge tablets with 4000mA, 4500mA and 5000mA battery capacity for 1.5 times, 1.2 times and 1.1 times. It is available to buy exclusively via Asus exclusive stores and Flipkart. Black variant is priced at Rs. 1,599 onwards while variants in Gold, Silver, Pink and Blue colors are priced at Rs. 1,499 onwards. It is also the smallest and sleekest power bank of all the devices compared here.
4. Honor Power Bank
Honor Power bank offers 13,000 mAh battery capacity and is priced at Rs. 1,399. It can be grabbed from Flipkart. It is claimed to charge an iPhone 6 four times. While being the heaviest among the lot, it comes with maximum battery capacity.
Best Power Banks In India: Detailed Comparison
Features
OnePlus Power Bank
Xiaomi Mi Power Bank
Asus ZenPower
Honor AP007
Capacity
10,000 mAh
10,400 mAh
10050 mAh
13,000 mAh
Price
Rs. 1,399
Rs. 999
Black color: Rs. 1,599, other colors Rs. 1,499
Rs. 1,399
Availability
Amazon India
Flipkart
Asus excusive stores, Flipkart
Flipkart
Weight
220 grams
250 grams
215 grams
_
USB Ports
2
1
1
2
Others

Lithium-Polymer Batteries
Dual-USB Ports
Output:5V/2A
Charging Time: 5.5h
Battery Indicator LED's
Safety Features

Lithium-Ion Battery
Aluminum casing
Water and corrosion resistant

Lithium-Ion BatteryOutput: 5V/2A
Metal case body
Energy saving mode
Intelligent sleep
LED indicators
OnePlus Power Bank VS Mi Power Bank VS Asus ZenPower VS Honor Power Bank: Comparison Video
All these power banks make sure that you never run out of battery juice on your device. At Rs. 1,399 price point, Honor's power bank is a good option to buy since it comes with more battery capacity and two charging ports so that two devices can be charged simultaneously. If your are looking for a smaller power bank then you can go for Asus ZenPower or OnePlus. However, if your budget is stuck below Rs. 999, then Xiaomi Mi Bank would be best suitable for you.
Which power bank among OnePlus Power Bank VS Mi Power Bank VS Asus ZenPower VS Honor Power Bank do you think is better? Share your views with us in the comments below.
Also Read: YuFit Band vs Xiaomi Mi Band: Which One Should You Buy
More related stories below: