Facebook has unveiled a new 'Creator' app for its community of users. The new app comes with new tools for Live Broadcasts. This is yet another attempt by the social media giant to take on the Google-owned YouTube. The company wants more and more video creators to join its platform. Read more to find about the new Facebook Creator App – How Does It Work?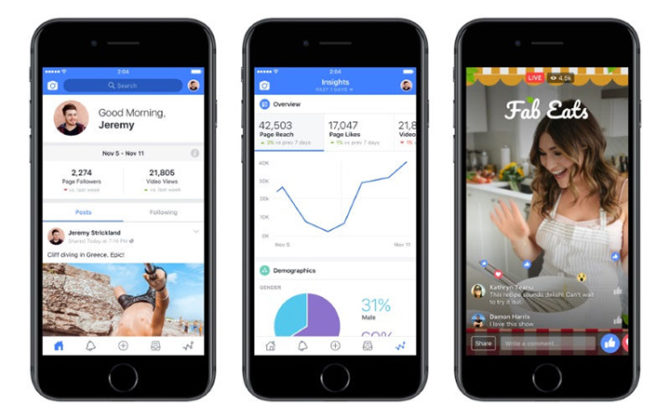 The Facebook Creator app will allow users to create original videos and connect with their followers. They will get exclusive 'Live' features which will allow you to personalize you live broadcasts. The stand-alone app comes with a dashboard that shows engagement stats and follower activity. It also has a variety of editing tools.
Previously, the company had launched an app called Mentions. It allowed verified users/organizations to create/track video streams and engage with viewers. The same app is now available to everyone as Creator.
Availability
The new app is now globally available on the iOS device for users with a Facebook Page/Profile. The Android version will be rolled out in the coming months.
Also read: Facebook Workplace Chat Now Available For Mac and Windows
Facebook Creator App – How Does It Work?
The Facebook Creator app essentially allows you to add intros and outros to live broadcasts. You can also use customized live stickers to interact with the viewers. Users can add graphics frames to create a consistent brand. Additionally, creators can also use Facebook Stories to engage with their viewers. You can add videos to Facebook Stories or post to your account.
The new app comes also with a 'Community Tab' feature that allows content creators to connect with followers. It comes with a unified inbox, which allows you to manage comments from Facebook, Instagram, and Messenger. There is an 'Insights' feature for analytics.
'Facebook for Creators' Website
The social media giant has also launched a new website called 'Facebook for Creators.' New creators can find multiple tips/resources on creating good videos and growing a fanbase.
Also read: Facebook AR Glasses Patent Reveals a Transparent Display Design
Conclusion
Facebook has been consistently trying to counter the Youtube's monopoly as a go-to video platform. Over the last year, the social media giant has released several video-centric features. It now supports 4K resolutions in its live 360 videos. Recently, Facebook also announced its move towards hosting original content on its 'Watch' tab. The new Creator App seems like a next logical step.
Facebook claims that the new app will allow creators to connect with more than two billion potential viewers. Creators will be able to create their own community and talk directly to fans with Live. Users will also be able to monetize with products like branded content.
The new Facebook Creator app is a new step in the world of individual broadcasting. It seems like the social media giant is becoming the new TV. We will have to wait and see how it pans out.
Also read: Facebook Watch Video Tab Unveiled – Is It Coming For Youtube?
More related stories below: