Android handsets usually come with pre-installed apps and tools. While some of these apps are helpful, others can be a burden on your device's battery and processor. Now, you can easily get rid of this bloatware. Read more to find How to Delete Pre-Installed Apps on Android Smartphones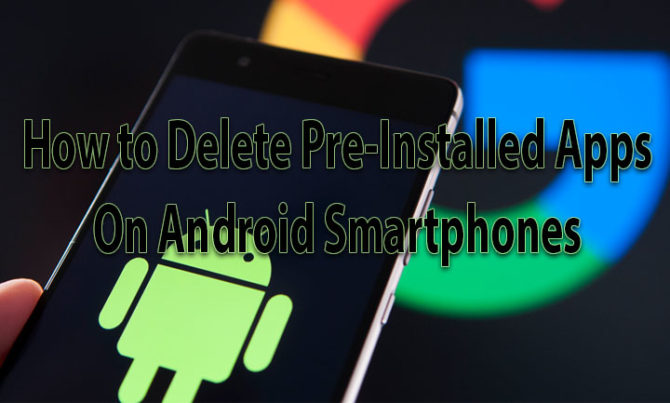 The bloatware on Android devices (pre-installed software) includes standard apps (like phone, email, etc) and third-party offerings (music player, etc). Some of these apps end up using up your Wi-Fi signal, battery, and other resources in the background.
Getting rid of pre-installed apps not only saves resources, but it can also protect your smartphone against security loopholes. However, removing bloatware is not as simple as deleting the usual third-party apps. Let us help you clean up your handset:
Also read: How To Send GIFs Directly From Google Images Search
Here's How to Delete Pre-Installed Apps on Android Smartphones
Via The Settings App
Open Settings app
Tap the General tab
Select Apps and Notifications

Now, tap on the app you want to remove

Next, you will see two buttons – Uninstall and Force Stop. If they're active the buttons will be lit, otherwise, they'll be grey
Now, press Uninstall to remove it.

If can't uninstall, use the disable button
Also read: How To Identify Songs Playing Near You Via Google Sound Search
Via The Google Play Store
Open the Google Play Store
Tap My Apps & Games > Installed
Choose the app you want to remove
Now, tap the Uninstall button
Note: This process will sometimes only uninstall updates from the app, not the app itself. In such a scenario, you'll also need to disable the app. Here's how:
Also read: How To Manage Daily Tasks With Google Assistant Routines Feature
How to Disable Pre-Installed Apps on Android Smartphones
Disabling an app, allows you to avoid security loopholes and background processes. A disabled app can't be automatically 'woken up' by other apps. Here' how to disable a pre-installed Android app:
Using the above-mentioned method, uninstall all updates from the app vis the Google Play store
Now, enter the Settings app
Navigate to the Apps & Notifications menu
Choose the app that you want to disable
Tap on Permissions and disable any permissions
Next, press the Disable button
Now, you might see a simple warning
Press OK
That's it. The app will be disabled
Also read: How To Use Dark Mode On YouTube for Android
Conclusion
If you want to completely get rid of the bloatware on your device, you can also choose to 'root' your smartphone. This process completely wipes your phone's memory and installs Android OS from scratch.
While it requires a little more technical expertise, you use the help of various third-party software. However, beware of using this option as it might void the warranty on your device. Also, in the process, you might end up causing permanent damage to your device.
Did you find the above-mentioned tips helpful? Are excited to use this method on your smartphone? Share your solutions with us in the comments section below.
More related stories below: