A few years ago, even desktops had to work hard when it came to editing videos. Nowadays, we carry these powerful devices in our pockets which can do everything from shooting to editing. In fact, you can make your own movie entirely on your smartphone. It still requires decent specs, RAM, and storage. However, while almost everyone is used to editing pictures, video editing is something which is a significantly less popular task among smartphone users. Do you often end up recording videos which are little long in beginning or end? Let us help you in getting rid of all the fluff in your videos without leaving your smartphone. Read more to find out How to Edit Videos On Android Smartphone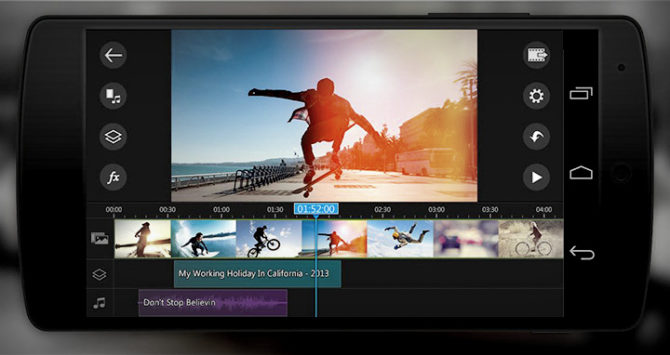 The simplest way to edit your videos is by using an app which you already have on your smartphone. Google's Photos app allows you to quickly trim your videos in few easy steps-
Open the Photos app (The Google app comes pre-installed on almost all Android smartphones. In case you don't have this app on your smartphone, download it for free from Google Play). Set up the Back-Up & Sync option.
Now open the video you'd like to edit.
Click on the little pencil icon at the bottom (If you don't see this option, try updating the Photos app).
Now you will find an edit menu. It offers easy-to-use selection tool for trimming videos. There's also an option to rotate the video. Highlight the section of the video you want to keep.
Hit the play button in the center of the video to check your edit.
Press the Save button in the top right.
That's it! A newly edited video file is automatically saved. The old video isn't altered in any way.
Also read: How To Speed Up Your Android Phone: 6 Essential Tips
While the Google Photos app can manage this small task it does not offer too many options. While smartphones are still away from running Final Cut Pro or Adobe Premiere Pro, there are many apps which offer many creative options for video editing. If you are ready for some pro vlogging, check out these apps below!
Adobe Premiere Clip
The free app offers many cool features such as auto-generating videos using your images and video. Manual version tools allow you to edit your videos using a variety of tools, effects, and music. In fact, you can use your own music. The app also syncs and work with Adobe Premiere Pro, which is a great for adding finishing touches.
System Requirement: Android 4.4 or higher
FilmoraGo
This pro tool comes with almost all the editing features of a PC editing program. You can do almost everything from creating a slideshow to add backgrounding music/voiceovers to your videos. It also allows you to add cool filter effects, animated text, title effects, motion elements, etc. The intuitive interface is also quite easy-to-use.
System Requirement: Android 4.2 or higher (also available on iOS)
VivaVideo
This is one of the best video editing software. With VivaVideo, you can easily import, and edit your videos. It also allows you to add various effects, filters, text, and titles. You can also add fast/slow motion to your videos. However, you will have to buy this one. The free version comes with a watermark.
System Requirement: Android 4.2 or higher
Magisto
The easy-to-use video editor app can automatically turn video clips into a music video in three easy steps. Just select the videos, soundtrack, and add a title. The app will automatically create a cool video. You don't have to spend much time while using this app.
System Requirement: Android 4.0.3 or higher
Also read: 11 Tips To Boost Battery Life Of Your iPhone & Android Phone
Funimate
This is not the most powerful video editor out there but it offers many cool features including more than 30 video effects. You can quickly create professional image slideshows and add soundtracks. The interface is quite easy to navigate. Also, you can easily make creative videos using Funimate and share them on social networks.
System Requirement: Android 4.4 or higher
KineMaster
The KineMaster comes with full-featured video editing tools. It features a multitracked timeline with full drag-n-drop support. You can import different types of media files and easily move them around. The Pro app offers a wide range of video editing options and tools including transitions, texts, and voice-over options.
System Requirement: Android 4.3 or higher
VidTrim Pro
The VidTrim Pro is one of the best Android video editing app. It comes with an easy-to-use interface. Multiple features on this app include trimming, frame grabbing, video effects, extracting audio and transcoding. While this app is not free, you can use it with a free trial.
System Requirement: Android 2.3.3 or higher
Also read: How To Automatically Delete Old Text Messages On Android Phone & iPhone
AndroVid
The AndroVid app allows you to cut, trim, edit and add music to your videos. Additionally, it offers options such as adding text, frames, and effects such as fade in/fade out, swapping, and slow/fast motion. You can also create cool slideshows with music and special effects. And last but not least, you can convert any video into .mp3 file for free.
System Requirement: Android 3.0 or higher
WeVideo
The cloud-based app allows you to create, edit, and publish videos on your Android smartphone. It comes with nicely designed themes with specific songs and visual styles. You can also choose your own music. However, since this is a cloud-based app, you have to upload your clips to the company's server before you can start editing. Also, you have downloaded the edited video after editing. You might not want to use this one while using mobile data.
System Requirement: Android 4.3 or higher
Was the 'How to Edit Videos On Android Smartphones' article helpful. Share your experiences or tips with us in the comments section below.
More related stories below: