Earlier at Facebook Newsfeed Event Facebook showed a new design of newsfeed. The good features of this design are that it will make images bigger than before and allows multiple feeds for different interests. Then it will give you more consistent user experience across mobile devices. But everyone is surprising, How can I get this new design of Facebook Newsfeed on my profile? Well simply follow this simple steps.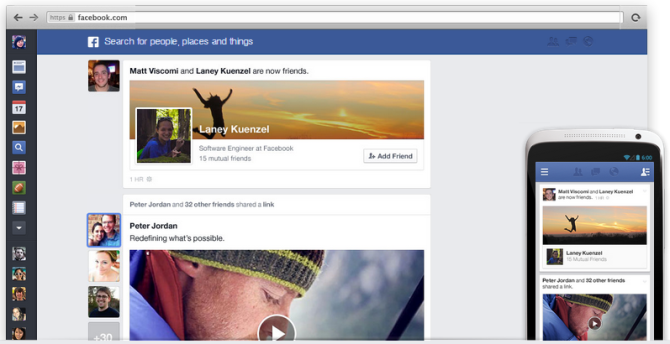 Step 1:- Go to facebook.com/about/newsfeed
Step 2:- Next scroll down till end of the page
Step 3:- Click on the  big green "Try the new look" button

Step 4:- Wait

Now may be you are thinking that, How long I have to wait to get this new design of Facebook Newsfeed? Well, no one can give you answer of this because people who have joined this list from the day one, have not got this new design. And only some lucky people have got this design. So wait if you are lucky than others than surely you will get it.
Next, may be some another questions will pop-up in your mind about this new design of Facebook newsfeed.
What I will get with this new design?
Is this new design is better than the previous one?
And last and final, Should i have to switch to the new design?
Well, this type of questions will surely come in someone mind, because earlier when Facebook brings Timeline feature, many people love it and some people don't like it due to some reasons.  But I think, you will surely likes this new update of Facebook. And if you are not techy or geeky than this new design will not affect you.Have a look at the new feature of this new newsfeed
Multiple Feeds – you can sort your news according to their category and then browse them via selecting categories. These categories are Close friends, friends in general, music, photos, games people and brands.
Photos- One can say photos are the face and heart of the facebook newsfeed. Photos affect the popularity of news. So photos will become more bigger than before on Facebook
So one can say that this new design will be better than before and you should have to click on the  big green "Try the new look" button.
More related stories below: