Instagram Stories are quite a popular feature among the users of the photo sharing platform. The new feature has made its way to other Facebook apps including WhatsApp and Facebook itself. However, not many users know that they can also add poll options along with your stories. Read more to find about How To Use Poll Feature In Instagram Stories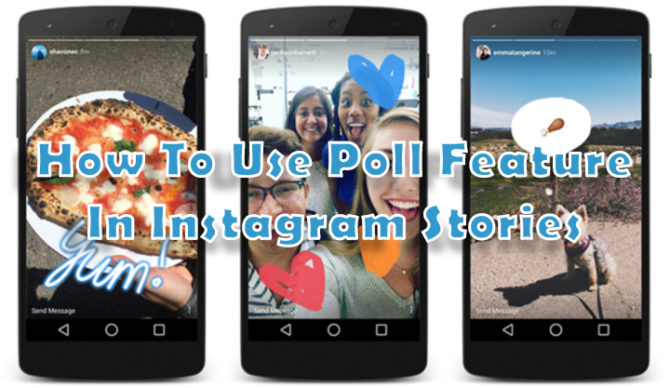 The Instagram Stories feature allows you to ask a question and see results from your followers. It essentially works as an interactive poll sticker used to collect votes. You get your friends' vote on your choice of food, clothes, etc. These votes disappear after 24 hours along with the Stories. You'll need to create a new Instagram Stories post to use this function.
Also read: How To Play YouTube Videos Within WhatsApp On iOS Devices
Here's How To Use Poll Feature In Instagram Stories
Open Instagram on your smartphone.
Tap the 'Home' tab at the bottom.
Now, tap your 'Profile' icon in the top-left corner or swipe right to create a new 'Story'.
Next, select an image to add to your story (from camera or from your photo library).
While adding any filters, text, emojis, doodles, etc. leave room to add the poll.
To add the poll, tap the 'Emoji' icon at the top-right corner. You can also access the stickers. Select the Poll sticker option.
Now, an option to add your question and a Yes/No poll box will appear.
Write your question. You can give only two options as answers.
To customize the poll responses, tap in each box (Yes or No) and type in the response. You can use up to 26 characters for each option in the poll.
Tap on the 'Done' button in the top-right corner of the screen.
The poll sticker will center on the screen of your story. You can drag the poll around the screen for placement and pinch to make it larger or smaller.
Once this poll is active, you can see how your followers are responding in real time. If push notifications are enabled and Instagram will send you notifications when someone votes.
Alternatively, you can go to your story and swipe up to see the list of viewers and how each one of them responded.
Swipe up to open up all the post analytics.
Also read: How To Speed Up Your Wi-Fi Network In Easy Steps
Conclusion
You can use Instagram Stories polls in many creative ways. The new poll option can be used for feedback on your products, market research, or planning events. You can even organize contests on Instagram itself. How will you like to use the new poll option on Instagram Stories? Let us know in the comments section below.
More related stories below: