ink WhatsApp has added new features for iPhone users. Apparently, the new update for iOS devices allows you to play YouTube Videos with the Picture-in-Picture Mode. It was first spotted by WABetaInfo. Additionally, the new update also adds the ability to lock recording. Users will now be able to record a voice message without holding the button down. Read more to find about How To Play YouTube Videos Within WhatsApp On iOS Devices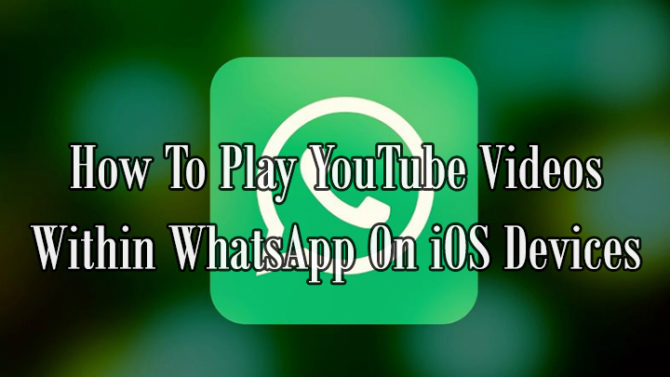 The new WhatsApp update for iPhone allows you to watch YouTube videos directly within a conversation. The WhatsApp v2.17.81 app for iPhone is available to download via the App Store. While the voice message recording lock is already visible to everyone, the YouTube feature may not be visible to all. It may need to be enabled with a server-side switch. WhatsApp is also expected to announce a voice-to-video call switch soon.
According to the App Store description, 'When you receive a link to a YouTube video, you can now play it right within WhatsApp. With picture-in-picture, you can also keep watching the video while you navigate to another chat.'
Also read: How To Backup SMS On Android Smartphones
How To Play YouTube Videos Within WhatsApp On iOS Devices
The new YouTube feature comes with Picture-in-Picture (PiP) mode. Once you click on a Youtube video link, it automatically plays within the app. Users can navigate to another chat while watching a Youtube video. Earlier, once you clicked on the link, the YouTube video opened in the YouTube app.
How To Record Long WhatsApp Messages With Ease
When recording a Voice Message, just swipe up to lock recording. This allows you to keep recording without keeping your finger down.
Also read: How To Speed Up Your Wi-Fi Network In Easy Steps
Conclusion
The messaging platform has been constantly adding new features throughout this year. WhatsApp has over 200 million monthly active users in India and 1.2 billion users worldwide. The new addition will help users to quickly share and view videos without leaving the app itself.
WhatsApp is also said to be working on a new feature that will allow you to switch from voice to video call while the voice call is in progress. This feature might pop up in the next Android update. The messaging platform might add a new button that will allow users to quickly switch. However, the recipient will have the option to reject the upcoming video call.
Also read: How To Use Built-In Face ID Feature On Android Smartphones
More related stories below: