Huawei Ascend P7 may look like a pretty phone on the outside, which it surely is, but there is a lot more to it than being pretty. It is not just a beautiful phone, but comes loaded with features which you can keep counting and the list in not small in any way. I have used the phone and experience it, so I am going to share with you some of the most interesting, innovative and useful features of the Huawei Ascend P7 in this article.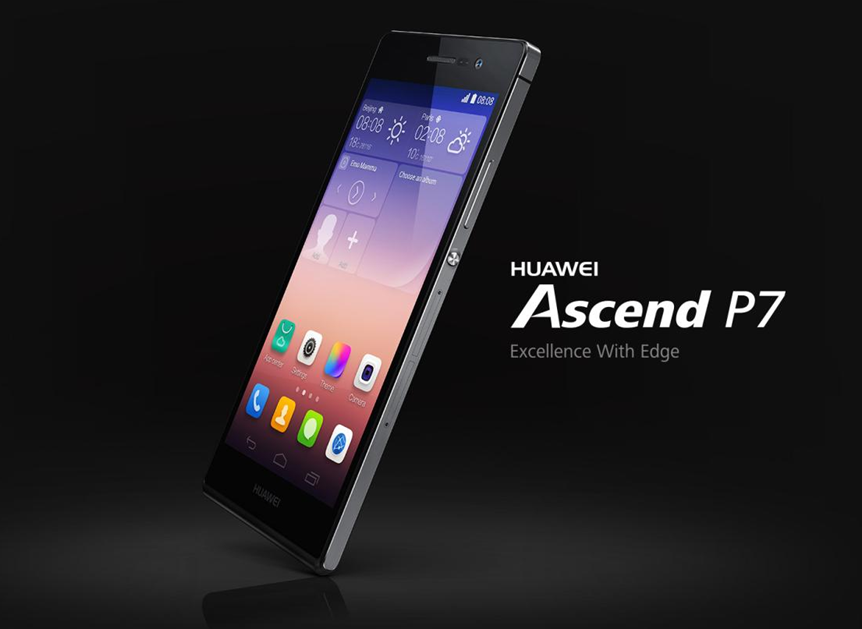 Design
I will start of course with the beauty factor of the phone, however it is not the most important feature, but at the same time cannot be ignored. The Ascend P7 is a stunner when it comes to looks. It is made up of premium materials with intricate craftsmanship when it comes to the design on the phone. Its sleek profile, which is juts 6.5 mm does leave a style statement about the users who use this sleek looking phone. With slim bezels and tall design, it easily fits into the palm and feels very comfortable to use even with one hand. This is a big advantage since not many large screen phones feel as comfortable in one hand as the Ascend P7 does. There is glass (high quality gorilla glass 3) at the front and rear of the phone which makes the phone feels nice and sturdy. It has strong metal frame all around and rounded polycarbonate bottom of the phone.
Video Review
Display
After the feel and design, the next thing that matters the most is the display quality and colour tones. The Ascend P7 does not disappoint at all with a stunning 5 inch full HD display which comes with in-cell technology for compact size yet brilliant viewing angles and contrast. It produces sharp and crisp visuals which makes it a treat to watch videos, enjoy games and other content on this large 5 inch screen.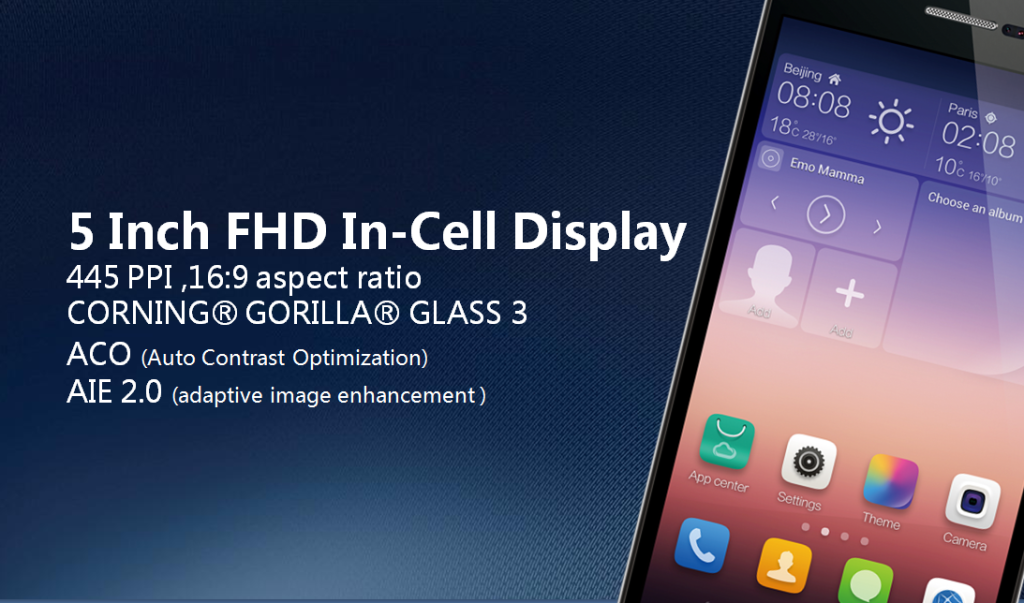 Camera
While everyone likes to talk about the rear camera first, I will not, I will talk about the front camera because it is gradually becoming more important than the rear camera. On the Ascend P7, you get a front facing 8 MP camera sensor with superb aperture of F/2.4, large pixel size and 5 lens optics. This is among the best configuration on the front cameras you can buy in this segment and it does create great selfies. Along with a mighty sensor, there is also 10 level face enhancement at software level; you also get video face enhancement, smart preview and panoramic selfie on the Ascend P7.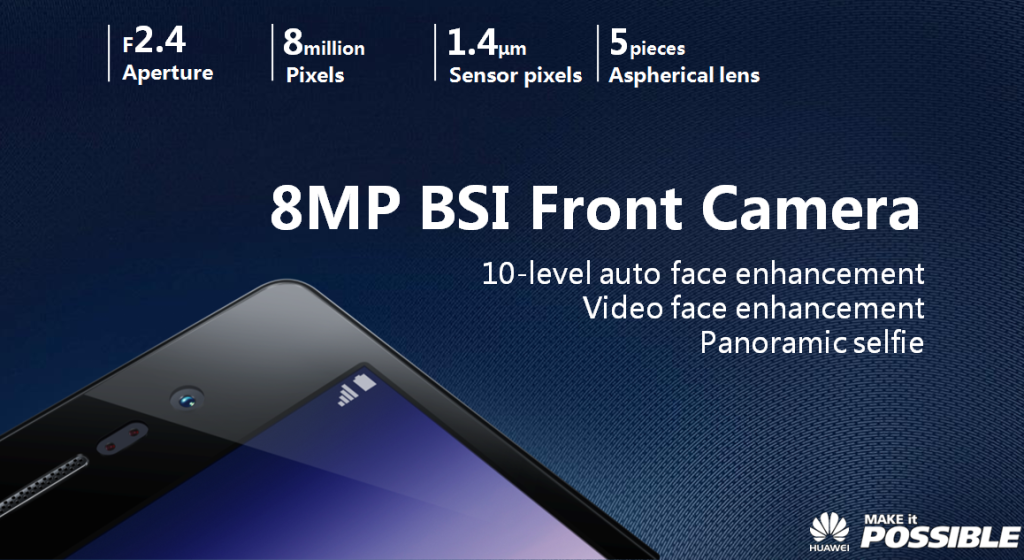 The rear camera is even mightier than the front one with a 13 MP camera sensor (Sony's 4th gen BSI sensor) with even better F/2.0 aperture, 6 piece optics, 28 mm wide angle lens. On software level, it gets superfast ImageSmart image processing engine for quick and crisp image capturing. Cutting out all these tech jargons, it is an amazing camera with sharp results, among the best you can get in this segment.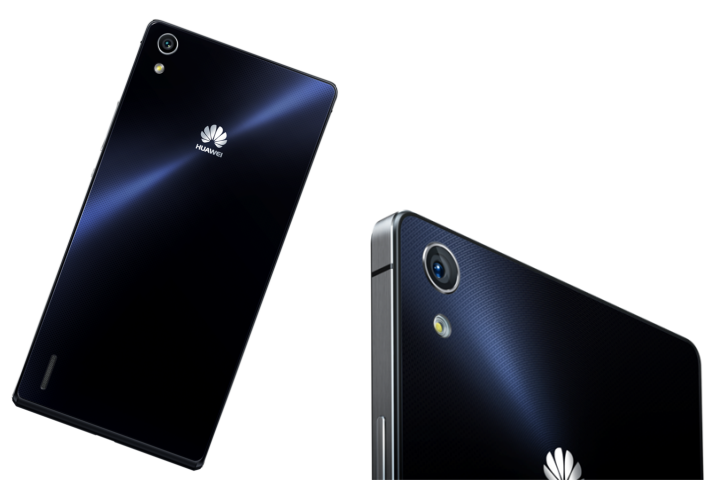 Performance And Specifications
Performance cannot be ignored in smartphones especially in lifestyle oriented phones like the Ascend P7. The phone must behave like it has been built for premium experience and it does feel the same. With a powerful yet efficient HiSilicon SoC chipset clocked at 1.8 GHz coupled with 2GB DDR3 high performance memory; the phone does feel blazing fast. It not only feels fast on the software and interface level, but also is very fast on the network front as well. It does support 4G LTE Cat4 which is blazing fast and is future proof since 4G is just rolling out in India. If you are buying Ascend P7, you need not worry about the network compatibility, it does support major 4G carries and makes your phone ready for high speed downloads.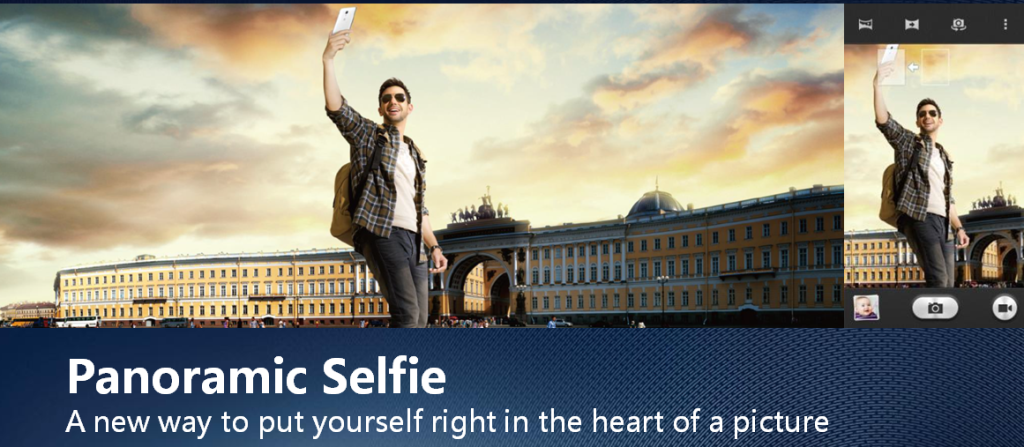 Battery Life
We cannot ignore this aspect for any smartphone. The phone does not stay smart anymore when the battery dies. To counter the same problem, which many of us face, Huawei is using very power efficient chipset which ensures that it does not hog on the battery. Also on software level there is a useful feature called ultra-power saving mode which allows the phone to stay in standby for one full day with as low as 10% of the battery.
Competition
At a lucrative price of under Rs. 24,000, the Huawei Ascend P7 seems much better compared to the competing phones with similar specifications and features. Some popular phones in this feature segment include the Samsung Galaxy S4, the HTC One M8, LG G2 to name a few which beside being lower in terms of features are priced higher than the Ascend P7. The Galaxy S4 for example is priced similarly but does not feature 4G/LTE, the LG G2 and HTC One M8 are priced much higher.
Final Words
With a right mix of design, display, performance, camera features, software and hardware performance with a well-balanced battery life, there is nothing to complain from the Huawei Ascend P7. Besides being a high performance phone, it is still priced at a very sweet spot. It surely is beauty with brains which comes loaded with so many software features that I can possibly not cover them all here. All I can tell you is that I am very impressed with the phone and it surely is one of the best choices in the segment.
Summary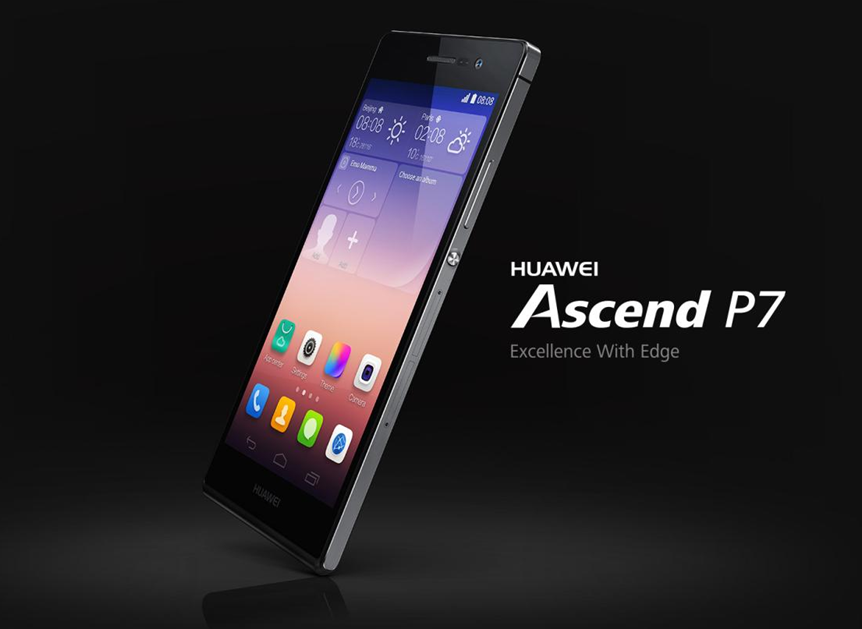 Author Rating





Brand Name
Product Name
Price
Product Availability
More related stories below: