We just brought you the news of Karbonn bringing in a 5.9 inch mobile- A30. For some a phablet is pretty much a wastage of money and they want to enjoy the tablet experience separately. Karbonn Mobiles has just added another tablet to its Android Power tablet series but this one is a bit different from the rest.
Karbonn Smart Tab 10 Cosmic Tablet is the name and its specifications justify the long name it has. It will run on Jelly Bean OS (which is a big plus in its favour) and is available for ordering on e-commerce websites in India. Powering the Tab is a mammoth 6000 mAh power battery. The processing power is a bit of a surprise for us too. It packs in Cortex A9 processor clocked at 1.5GHz but the details of the GPU are unknown.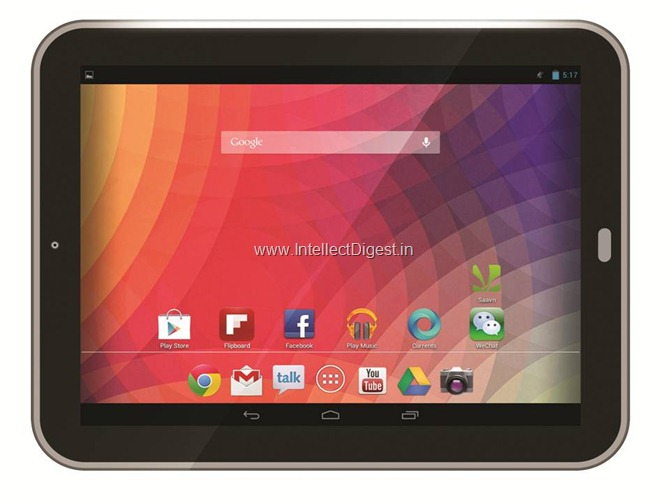 The Cosmic tablet will have a 1GB DDR3 RAM and again , the details of the internal storage are unknown.Only once we see the device in real life we could say about that. 3G can be accessed via an external dongle but there is not SIM slot. Hence no voice calling over cellular networks. It's got Wi-Fi , a HDMI port for connectivity and a micro USB to cover the connectivity options.
There is a 2MP rear camera with a VGA front camera for video calling. The capacity screen is a TFT LCD is of 9.7 inches (4:3 aspect ratio) with 1024×768 pixels being the resolution. At this price , it seems more than a bargain and if the GPU turns out be a Mali-400 , it could pose serious threat to even the Koreans in their tablet market. The big 6000 mAh battery should have enough juice to give you a continuous usage of around 6 hours.
Specifications
Cortex A9 Dual core @ 1.5GHz. GPU may be Mali 400
9.7 inch capacitive TFT LCD with a 10 finger multi point touch
Jelly Bean OS Version 4.1 (Stock Android)
2MP rear and VGA front camera
Wi-Fi, External 3G, HDMI port, micro USB, 1080p playback supported and 3.5mm jack
Price
The Karbonn Cosmic Tab 10 is priced Rs. 10,490 (It's a steal).
Karbonn is taking the market by storm. If it has to stay on the top of the charts , it better keep on bringing in new products and announce updates for at least its flagships.
More related stories below: