Either LG does not see the Indian market as one of their important markets or the team which takes care of the strategies at LG India is doing a pretty poor job of devising launch strategies for India in the smartphone game. LG has some real good products with them as top of the line smartphones but India seems to get them when their next version comes in. LG has quietly introduced the LG Optimus G in India at a price of Rs. 30,990 when the LG Optimus G Pro has already been announced.
The only thing LG seems to have done in the correct manner this time is that they have priced it right. The SIII just got itself a price cut and is retailing for around Rs.29,000 and the HTC One X can also be bought for a similar price. The only thing that might make people shy away from this real good smartphone is the fact that LG has had a poor track record of updating their smartphones with the latest software. If someone is spending such a large chunk of money for their smartphone, they expect to be treated well but LG does not really do that.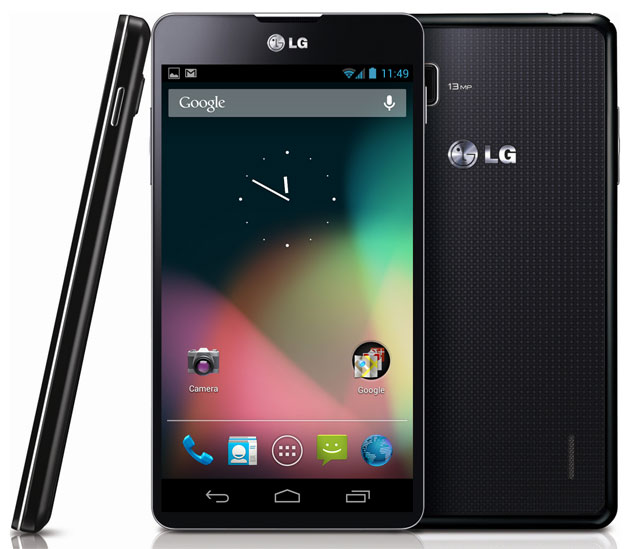 Bad things apart, let's talk about the good things of the smartphone. It comes with a Snapdragon S4 Pro processor with its cores clocked at 1.5 GHz and it is the same processor that does duty in the HTC Butterfly but that smartphone is priced almost Rs.15,000 more than this one making it a better buy. Also the processor is better in terms of performance than the ones powering the Korean and Taiwanese flagships. Also, it was the first device to debut globally with this processor.
A 4.7 inch capacitive screen with a display resolution of 768 x 1280 pixels adorns the front of the smartphone with the RAM standing at 2GB which is another point in the LG offering's favour. There's ambiguity about the Android version but we believe it would come with the 4.1 update instead of the 4.0 one. Internal storage stands at 32 GB with the camera having an ability to click pictures in reslution of 13 MP which are pretty much similar to the ones that can be clicked from 8 MP cameras.
The battery power will stand at 2,100 mAH and will manage to give it almost a day of moderate usage. display, 2GB of RAM, 32GB of internal memory, a 13-megapixel camera and a 2,100 mAh battery. It is a good device and would have been a success as well had it reached us a little earlier. Also, LG has been delaying the launch of the Nexus 4 in India but with the Nexus 5 launch on the cards in the next few months, we doubt LG will bring it to India. You can order the smartphone online in India.
More related stories below: