Huawei Ascend mate company's first phablet device and starting a new series is out in the market with the Samsung Galaxy Mega being the first opponent. So let's have a head-on comparison between the two.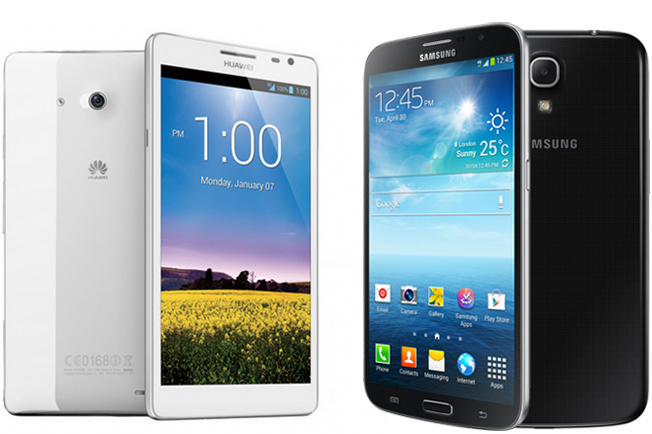 Image source : BGR.in
Design:
Both of the devices have a decent design and build quality for large screen device. Samsung giving its typical looks with the home key and same design also makes Mega 6.3 a part of the Galaxy series with just expanding the screen size. Both of them have plasticky body but the point worth mentioning is Samsung manages to pack it in 8.8mm thickness and Huawei does it in 9.9mm.
Apart from this the screen size which is 6.1-inch on the Huawei Ascend Mate and 6.3-inch on Samsung Galaxy Mega.
Display:
The screen size difference has been discussed above but there is difference with the display quality as well. Both of them having the HD resolution that is 1280×720 pixels ( 720p ) very well plays with the big screen but the color richness and picture quality proves out to be better on Huawei Ascend Mate. This not only makes the experience better but also provides a realistic view of what we are looking at.
Camera:
Camera on both of the devices is exactly the same having capable of clicking pictures upto 8MP resolution that too with support of LED flash. The difference comes with the front facing camera which is 1MP on Huawei Ascend Mate and 1.9MP on Samsung Galaxy Mega 6.3.
Hardware:
Taking the hardware specifications into consideration, the Samsung Galaxy Mega is powered by a dual core 1.7GHz Qualcomm Snapdragon S4 processor whereas Huawei Ascend Mate is running on a 1.5GHz Quad-core processor. RAM on these device is 1.5GB and 2GB whereas internal memory is 8GB and 16GB on Galaxy Mega and Ascend Mate respectively with support for external microSD card on both of them. The other primary difference is with the battery capacity. Ascend Mate comes with a 4000mAh battery whereas Samsung Galaxy Mega comes with a 3200mAh battery easily enabling the devices to last for a day atleast on high usage and 1.5 days on normal usage. Another hardware addition to the Galaxy Mega is the IR blaster which isn't there on Ascend Mate.
Software:
Samsung with its TouchWiz UI is definitely more powerful and functional features like the S series applications. Huawei on the other hand comes with simple Emotion UI to give it a rest from Android complexity.
Huawei Ascend Mate comes with the Android JellyBean 4.1 and Galaxy Mega with Android 4.2.2 giving them their own specific features and advancements over the other.
Price:
Huawei Ascend Mate comes for a price of Rs. 25,000 whereas the opponent Samsung Galaxy Mega 6.3 comes for Rs. 30,000 having its own brand name and brand value.
Conclusion:
Both of these devices are very good and work definitely according to the present generation but with the price difference of Rs. 5,000 and hardware and software pros and cons its up to you to choose what you will give preference to.
More related stories below: