Indian market is flooded with smartphones with impressive features. Samsung Galaxy Note 4 and Google Nexus 6 are two of the very popular Android devices in the market with latter being the biggest Nexus yet, so far. If you are confused about which device to buy- Samsung Galaxy Note 4 or Nexus 6 then you have reached the right place. We will help you pick the best smartphone through this post. Read on this post to find out detailed comparison on how Samsung Galaxy Note 4 vs Google Nexus 6 compare with each other in specs, design and features with video.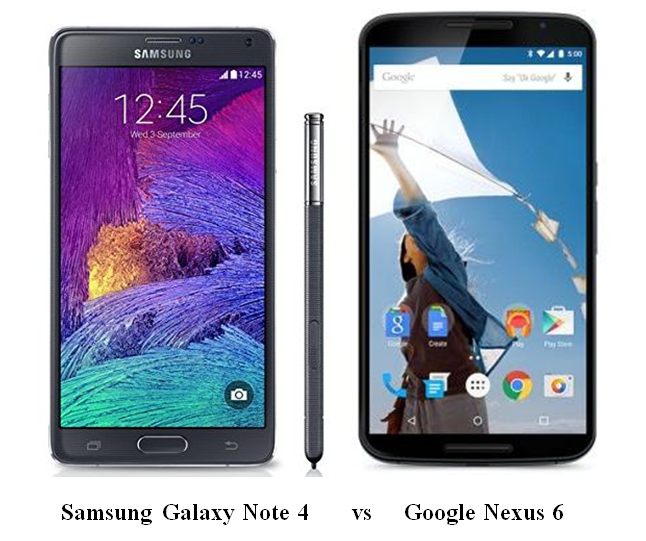 Specifications and Features Comparison:  Samsung Galaxy Note 4 vs Google Nexus 6
Device/Features
Samsung Galaxy  Note 4
Google Nexus 6
Price
Rs. 42,289
Rs. 43,999
Display
5.7 inch Super AMOLED – Gorilla Glass 4
5.96 inch AMOLED – Gorilla Glass 3
Resolution
1440×2560 – 515 ppi
1440×2550 – 493 ppi
SoC
Qualcomm Snapdragon 805
Qualcomm Snapdragon 805
CPU
Quad Core 2.7 Krait 450
Quad Core 2.7 GHz Krait 450
GPU
Adreno 420
Adreno 420
RAM
3 GB
3 GB
Memory
32 GB
32/64 GB
MicroSD
Yes – upto 128 GB
No
Battery
3220 mAh – Li-Ion Removable
3220 mAh – Li-Po Fixed
Camera
16 MP, OIS, AF, LED Flash, 4K Recording
13 MP, OIS, AF, Dual LED Flash, 4K Recording
Front Camera
3.7 MP Wide Angle
2 MP
Connectivity
2/3/4G LTE, Wi-Fi a/b/g/n/ac Dual band,
BT 4.1 LE, NFC, IR Blaster
2/3/4G LTE, Wi-Fi a/b/g/n/ac Dual band,
BT 4.1 LE, NFC
OS
Android 4.4 KitKat – TouchWiz
Android 5.0 Lollipop
Extras
Fingerprint Sensor, Heart Rate Monitor,
Enhanced Multitasking, S Health, S Pen
Dual Front Speakers, Wireless Charging,
Water Resistance
Design & Form Factor
The Samsung Galaxy Note flaunts its impressive metal build. Google Nexus 6 on the other hand comes with metal frame casing. Nexus 6 is soft to touch at the back and solid in build. It further comes with slim edges and is thicker in the middle. Nexus 6 is slightly difficult to hold compared to Note 4 which feels more rich and premium to hold.
Display & Video Playback
Galaxy Note 4 has a brilliant and adaptive display software to modify display characters based on apps which works really wonderful. It features 5.7 inch Super AMOLED QHD display with Gorilla Glass 4 protection and offers great saturation and color quality.
Nexus 6 has 5.96 inch AMOLED display with QHD resolution and Gorilla Glass 3. The images look sharp and well saturated, but it is not as vibrant in appearance as is the Note 4. However, the Nexus 6 looks more close to natural, but at low brightness, the colors get more skewed and unnatural on the Nexus 6 compared to Samsung Note 4.
Audio Quality
On audio front, Note 4 is loud, yet not the best in class. The clarity is also about average on speakers. On earphones, the quality is very good and included earphones are very high in quality
Audio quality of Nexus 6 on speakers is very good. It comes with dual frontal speakers which create loud and clear Audio. The earphones quality of Nexus 6 is better than average but not as good as Samsung earphones.
Specs & Benchmarks
Both the devices are equipped with high end specs like Qualcomm Snapdragon 805 processor coupled with 3 GB of RAM and 32 GB internal memory. Both smartphones score comparable on Benchmarking apps, while real life performance is smoother on Nexus as TouchWiz does create some glitches at time.
Gaming Performance
Note 4 is visually and graphically very rich in gaming performance, while the audio from speakers could have been better. Nexus 6 on the other hand offers very immersive gaming experience with large screen and loud audio from speakers.
Battery Life
Both the devices are fueled by 3220 mAh battery. On moderate usage, the battery of Note 4 easily lasts 1.5 days which is better than average battery life with two power saving modes.
The battery of Nexus 6 lasts one day on moderate usage, which is comparatively less than Note 4.
Multi-tasking
Note 4 offers advanced level of multi-tasking with split screen, floating windows and floating icons. While multi-tasking in Nexus 6 is very basic with quick app switching.
Camera Quality
Samsung Note 4 sports a 16 MP rear camera with OIS which captures super sharp images in most light conditions. The device also supports very fast HDR and 4K video recording.
Nexus 6 comes with a 13 mega pixel rear camera while the camera quality looks better than previous nexus (5) but not close to the quality of Note 4. Nexus 6 comes with 4K videos support but the Video quality is not comparable to the Note 4.
Expandable Memory
Note 4 comes with expandable storage up to 128 GB via microSD card while this option is not available with Nexus 6. Nexus 6 comes in two non expandable storage variants- 32 GB and 64 GB.
Additional Features
Samsung Note 4 flaunts its S-Pen which helps the user to make efficient and easy use of this device while this feature is not available in Nexus 6.
Software Version & UI
Note 4 runs on Android KitKat operating system based on TouchWiz UI offering numerous features to the users. While Lollipop update is expected soon on this phablet.
Nexus 6 is the pure stock Android phone which runs on the latest Android 5.0.1.
Call & Signal Reception
Signal reception on Note 4 is quite good. This device offers nice call clarity with 3 mic noise cancellation. Note supports 4G / LTE, Wi-Fi, Bluetooth, NFC and IR blaster on connectivity front.
Signal reception on Nexus 6 is also decent with pretty good call clarity. It supports 4G LTE, Wi-Fi, Bluetooth and NFC as connectivity options.
Price & Value For Money
Samsung Galaxy Note 4 is available at Rs. 42,289 while Nexus 6 is available with a slightly higher price tag of Rs. 43,999.  Both devices come packed with impressive features, powerful configuration yet Note 4 seems one step ahead of the Nexus 6 rival with microSD slot, better camera, battery life, audio quality and features like S-Pen.
Video: Samsung Galaxy Note 4 VS Google Nexus 6- Detailed Comparison
So, what do you think of these devices compared above? Let us know in the comments below.
Also Read: Xiaomi Mi Note vs Samsung Galaxy Note 4 vs Apple iPhone 6 Plus Comparsion
More related stories below: