We brought to you the images of the Samsung Galaxy Note 8.0 which were leaked a while ago and Samsung could not really keep the device under the wraps for a long while as the device was getting leaked every now and then. So Samsung has officially launched the Note 8.0 at the MWC 2013 and it will soon hit the retail stores. Seeing the fact that India gets Galaxy devices before many other countries, we can expect the Note 8.0 to be available for us sooner than the Americans or Europeans get them.
The Galaxy Note 8.0 comes with the specifications which we disclosed to you. It gets an Exynos 1.6GHz quad-core processor which is the same one as on the Note II. The 8 inch screen comes with a resolution of 1280×800 pixels and the pixel density will stand at 189ppi. The primary camera will be a 5.0 MP unit and the secondary camera will be a 1.3 MP one. It will get 2 gigs of RAM to ensure you never run out of memory when running your applications and like the other Android tablets, smartphones and its main rival, the iPad Mini will come in 32 GB and 16 GB variants.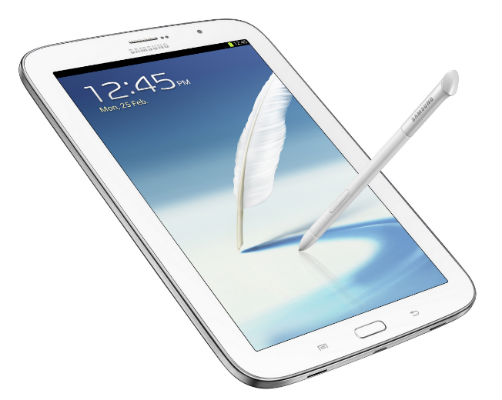 The tablet gets S-Pen functionality and calling abilities as well so it can double up as a smartphone too. Now these two features will be the ones that would hurt the sales of the Apple iPad mini the most as it lacks both these features. The Galaxy Note 8.0 will also get an option to expand the memory as well. The battery power will stand at 4,600mAh battery, which would surely add to its functionality when you double it up as a mobile phone.
The tablet will run the latest version of Android, Android Jelly Bean and we can safely expect Samsung to provide it with software updates in future. Apple is said to be working on the next version of the iPad, the iPad mini 2 which is expected to break cover in March and will come with a Retina display. Seeing that Apple launched the mini in India at the same time as global launch, the next generation of the mini will follow its current generation device as well. Let the battle begin.
More related stories below: