Samsung Galaxy S4 launched in India in April 2013 is one of the most talked about and phones and has sold over 10 million units in a couple of months from the launch. The S4 offers a lot of features, innovative gesture controls and superb graphics performance packaged in a slim and sleek form factor. You can check out our Samsung Galaxy S4 review and video coverage here. We have tested this phone for some weeks and have been impressed with the features and camera options that we found on this phone.
Today we announce Samsung Galaxy S4 Giveaway giveaway on Intellect Digest. In this giveaway, we will be giving away a brand new Samsung Galaxy S4 as a prize to one of the selected winners. You can participate in the giveaway and stand a chance to win a Galaxy S4. Check out the contest rules and terms in the section below.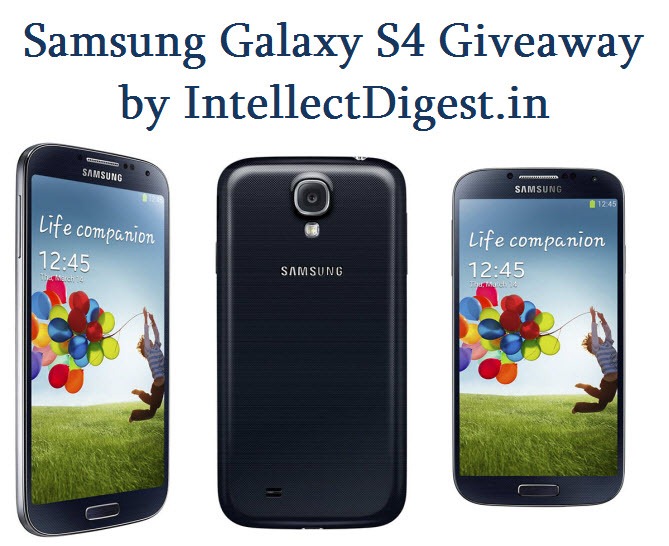 Samsung Galaxy S4 Giveaway– Why You Deserve The Best Smartphone?
To participate in the Samsung Galaxy S4 giveaway you just need to follow the below 4 steps:
1. Subscribe to Intellect Digest YouTube video channel here.
2. Tweet the following text from your Twitter account – "Samsung Galaxy S4 Giveaway By IntellectDigest.in ( @iDigestIndia ) – Win A Galaxy S4 here- http://bit.ly/16P1YJE "
3. Tell us the best features of Samsung Galaxy S4 which you would like to use.
4. Leave a comment below with one video link on Galaxy S4 tips (anywhere from YouTube) which you find most useful.
We wish you all the best and we hope you come up as a winner.
Terms and Conditions
This contest is applicable to the participants in India only.
The contest is open between 7th June 2013 to 21 June 2013.
One winners will be selected at the end of the contest term. We will contact the winner via email which is provided in the comment section below, so make sure you enter correct email id. Your email id will not be visible on this page and will not be shared with anyone.
After the contest is over, we will select one winner and ship them a Galaxy S4 via courier / mail.
Only one entry per person is allowed.
In case any tax or octri applicable in Winner's state, the winner will be liable to pay applicable tax.
The selection of the winner will be made by Intellect Digest team and can not be challenged legally or otherwise.
The winners can not claim cash or money in exchange of the prize and it is not transferrable.
The terms and conditions can be updated or modified without prior notice.
Feel free to communicate with us in the comment section below.
Samsung Galaxy S4 Videos Coverage By Intellect Digest
Results
We got an overwhelming response in number of entries of this contest. To make the result fair, we picked up top 15 entries on the basis of the combination of videos submitted and features mentioned in the response by the participants. Out of these 15 entries we have picked one finalist by random draw using randomizer of the list.
The top 15 entries picked by our team are:
Aaditya Ailawadhi
Karan
harsimran
Farhan Ahmed
amit kumar
Shubham Singh
The Akshay
Abhishek bhamare
deekshith
Abhinav Singh
Namith VN
Shashwat Pant
Jatin Alagh
Mayank Bhasin
Sanchit Malhotra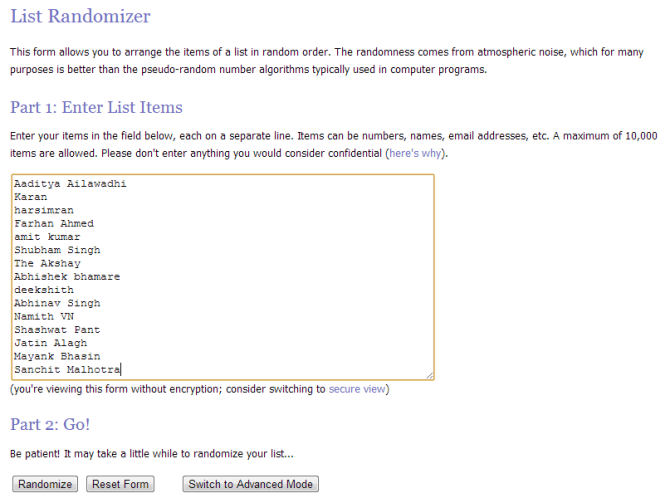 Winner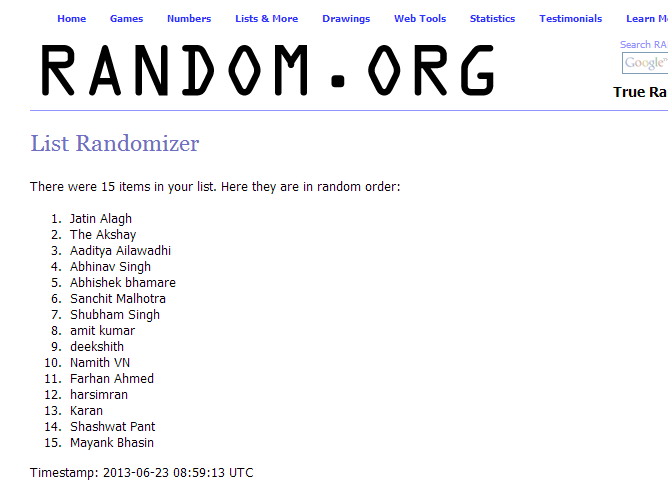 The lucky winner in this giveaway is Jatin Alagh. We will contact the winner by email and will get his shipping address for shipping the prize which is a brand new Samsung Galaxy S4. If you did not win in this contest, don't be disheartened, we have many more giveaways coming up in following months where we will be giving away more latest gadgets with our readers and viewers. Stay tuned to Intellect Digest on Facebook and subscribe to YouTube channel of Intellect Digest for upcoming giveaways.
More related stories below: