Intellect Digest will be bringing you all the details from the Indian launch event of Samsung Galaxy S4 in India. The much talked about Galaxy series smartphone which was unveiled globally at New York in March 2013 is finally coming to India. We will bring you video reviews details of Samsung Galaxy S4 hands on experience very soon.
The Galaxy S4 from Samsung is a step ahead in the evolution from its predecessor the S3 which is still one of the finest and preferred choice in the high end Android phones. The S4 has evolved over the S3 making it more feature rich and immersive. Some of the key elements include an ergonomic and sleek design, some fun camera features like the Double Shot which allows you to take pictures using front and rear camera at the same time. See the following sections for more features details.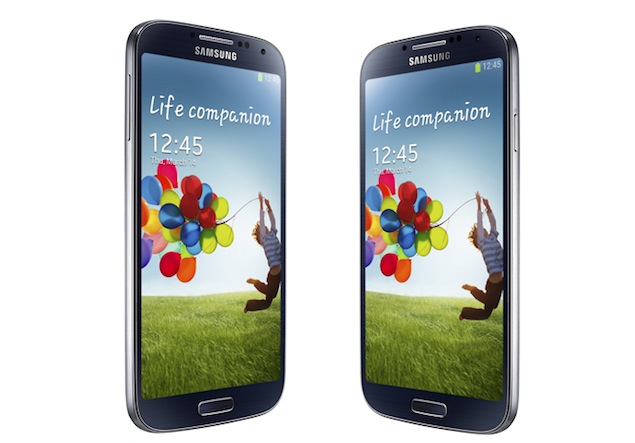 Video Reviews
Galaxy S4 Detailed Review With Benchmarks:
Galaxy S4 Most Useful Features And Tips:
Samsung Galaxy S4 Gaming Review- Asphalt 7 Heat:
Samsung Galaxy S4 Benchmark Performance Test Results:
Samsung Galaxy S4 Official Accessories- Wireless Charging and Transparent Smart Cover Demo:
Price and Availability
Samsung Galaxy S4 goes on sale in India at Rs. 41,500 from 27th April 2013.
It comes with a special All One One plan with Vodafone which is available in both pre-paid and post-paid with unlimited internet, 3000 calls, 750 SMS etc. which help save up to Rs. 1000 per month with the special tariff plan.
Specifications
The Samsung Galaxy S4 launched In India is powered by one 1.6 GHz quad core CPU and one 1.2 GHz Quad Core CPU and 2GB of RAM. It has a 5 inch Full HD AMOLED display (1920×1080 with 441ppi) and has a mere 130 gm of weight. It is only 7.9 mm thick and has a 13 MP rear camera and 2 MP front camera. The rear camera has zero shutter lag. Both front and rear camera can record full HD videos at 30 FPS, a battery of 2600 mAh and IR blaster.
Features
Some of the most useful features of the Samsung Galaxy S4 are:
Double Shot
It allows you to click pictures and videos using the front as well as the rear camera at the same time. This makes sure that you don't miss being in the pictures even if you are behind the camera.
Sound And Shot
You can capture the images with sound, so when you watch the picture, you can also hear what was the sound when picture was clicked.
Drama Shot
Drama shot lets you capture multiple shots and them merge them into one creating a stunning action sequence in one picture, it is truly dramatic.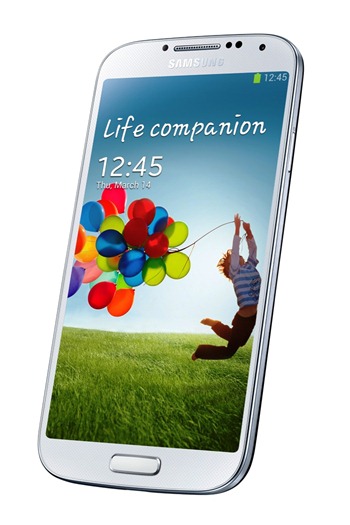 Group Play
Lets you play games, share photos and documents with multiple Galaxy devices wirelessly. Now that is fun.
Story Album
It organizes your pictures based on events or your choice.
Samsung Hub
Samsung hub offers you a lot of multimedia and entertainment content to buy on your phone.
S Translator
Helps you translate your speech or text to multiple languages very easily. Its perfect for communicating with people who don't speak your language.
ChatOn
ChatOn is the messaging platform of Samsung which allows you to connect with one or multiple friends on chat very easily across Samsung devices.
Smart Pause
The S4 understands you when you are looking at it and watching a movie or video. When you look away from screen, it pauses the video and plays it back when you look back at it.

Air View
Air View is a very interesting feature which reacts to your hand gestures without touching the screen. It works with even the gloves on.
WatchOn
It helps you organize your TV watching experience with suggestions based on your preferences. It also works as your remote control.
HomeSync
Samsung HomeSync is a system which connects your Galaxy Devices to your home screen and gives you a connected multimedia experience on large TV screen or other large HD displays.
S Health
Samsung has integrated features to monitor your workout schedules to help you manage your health event better.
Adapt Display
The Galaxy S4 adapts the viewing experience with 7 automatic and 4 manual display adjustment modes.
Adapt Sound
The Adapt sound feature of S4 monitors and adjusts the sound levels and balance as per your preference to bring you the best sound experience.
Developing story. Bookmark this page and come back again for more updates.
More related stories below: