New 4.8 update has added multiple new features to the Telegram app for Android. This includes video streaming (start watching videos without fully downloading), and an Auto-Night Mode (automatically switches to the dark version of the interface). Let us help you to turn on the new mode. Read more to find about How To Use Auto-Night Mode On Telegram App For Android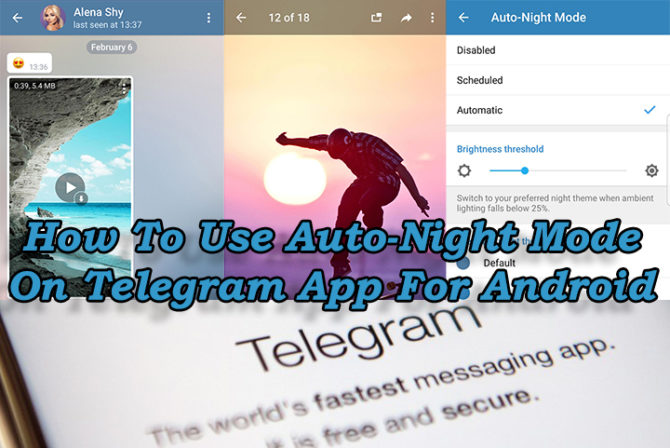 The new Version 4.8 includes several new features. The new video streaming feature allows you watch videos right away (without fully downloading). A light grey strip below the video shows the download progress to users.
A new login widget lets you log in to other websites/services via your Telegram account. However, you'll need to enter your account phone number for the first time. Once confirmed, you need to 'Accept' the terms and conditions. Next, you can choose a Telegram name, username, and profile picture. The phone number remains hidden. The 'Logged in with Telegram' section (in the Privacy & Security settings) now lists all the websites you are logged in to via Telegram.
The new Auto-Night Mode on Telegram app for Android automatically switches to the dark version after nightfall or in low-light conditions. The app can identify lighting conditions by combining the data obtained from the ambient light sensor with the current time.
Also read: How To Top Up Your Amazon Pay Balance With Cash
Here's How To Use Auto-Night Mode On Telegram App For Android
Just go to Settings.
Navigate to 'Theme' section.
Next, choose 'Auto-Night Mode'.
That's it.
You can also choose from a multitude of custom themes via a 'Preferred Night Theme' setting.
Also read: How To Set Up Google Chromecast With Your Android Smartphone
Conclusion
As of now, the new features are only available for Android devices. The company promises that an iOS update in near future. You can download the new Telegram version from Google Play Store. Recently, the company launched Telegram X for Android as an experimental app. It offers better speed, animations, and ease of use. The new app comes with a bubble-free mode for chats and a list of swiping actions. Users can also preview content with a tap and hold gesture on their chats.
Also read: How To Use Your Smartphone As WiFi Mouse, Keyboard
More related stories below: