The Motorola's newly launched device Moto G dual-SIM is getting latest Android 4.4 Kitkat update in Malaysia. A twitter user twitted a screenshot about the update. The Moto G launched in India on Wednesday. If you are also one of those lucky buyers who bought Moto G on the launch day, then let us know if your phone is getting update in India too. Because the Moto G was also launched in Malaysia last month, and Google made available update for this handset soon, so quite surely Moto G will also get Kitkat update soon in India too.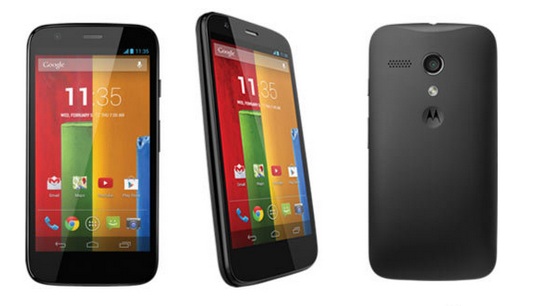 Before the launch, Flipkart listed Moto G on its website with a coming soon tag and some exiting offers. Now, after the launch, Flipkart is also offering a 100% cash back offer too with more offers on eBooks and clothes. Moto G was launched last year back in November with expected to arrive in January in India. And that in the last week of January, Motorola twitted on its twitter handle that Moto G will be available on Feruary,5.
The download size of new software update is 230.7MB with a build version 171.44.31.en.03, but Indian version will differ from it.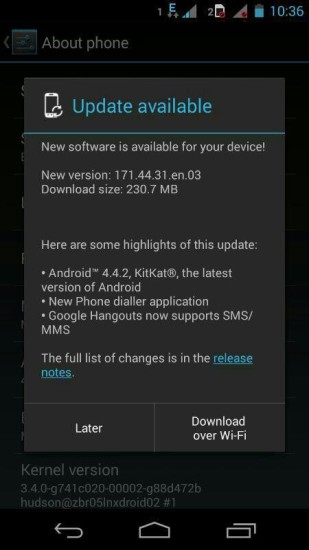 The new software update will bring some major and minor improvements including new dialer app and SMS/MMS support for Hangouts.
4.5 inch wide display with 720p pixel resolution and 329ppi its sharpest display in this class and price range. Moto G features the latest 1.2GHz Qualcomm Snapdragon 400 processor that is the best processor on a phone in its class. It is paired with 1GB of RAM, There is 2070 mAh battery on board. Motorola says that with this battery it can run whole day with a single charge.
Specifications of Moto G
4.5" 1280 X 720 HD display with 329 ppi
Android 4.3 Jelly Bean
1.2GHz Qualcomm 400 processor
Adreno 305 GPU
1GB RAM
8/16 GB internal storage
5 MP rear camera
1.3 MP front Camera
2070 mAh battery
65 GB Google Drive storage
For More Stay tuned with   Intellect Digest India   and like us on   Facebook   or follow us on   Twitter  .
More related stories below: