Motorola is going to release the most awaited smartphone in India today on February 5. We already told you that it was get listed on Flipkart with bunch of freebies and other exciting offers. The Moto G was launched last year back in November worldwide in Brazil. And it was expected that Motorola will launch it on New year in January in India. But now today at 5, February it is now official, and Filpkart brings Moto G in India with partnership with Motorola. As Motorola already sold to Lenovo, it is no longer in a position to work individually. We have a press release about Moto G and all the scenario is cleared now.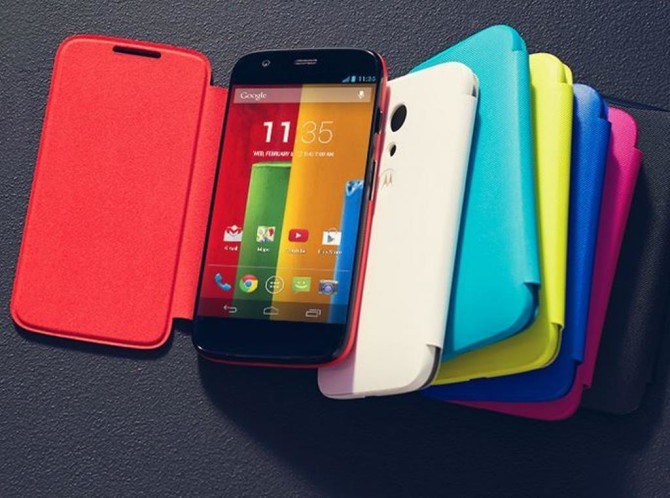 First thing i want to tell you about Moto G Indian edition is that it comes with dual SIM, Ya sounds good. And price of the smartphone is not also high as it is launched at INR 12,499 for 8GB and INR 13,999 for 16GB only. The price is also reasonable and plus point is,if you buy it through Flipkart you will get the bunch of freebies and also some sort of discount too on colourful panels.
Flipkart is offering 500 off on eBooks and 1000 off on clothes too.And you can also customize your Moto G with colourful panels, Flipkart is offering 70% off on these panels with a buy of Moto G from Flipkart.  And more interestingly, you can stand out a chance to get 100% cash back on Moto G. So the most affordable smartphone with lots of specifications is now becomed more affordable, thanks to Flipkart.

As the specifications of Moto G is already known, and there is not any doubt about the availability of dual SIM functionality in this smartphone, Moto G is really an exceptional smartphone at exceptional price. The link on Flipkart for buying this smartphone is not available yet. But we hope it will be there till the end of the day.
On the launch the Flipkart co-founder and CEO Sachin Bansal says,"This exclusive partnership with Motorola Mobility is in continuation of our commitment to bring the very best in selection and service to our customers. For the first time a global brand has tied up with an exclusive online partner in India. The power of Motorola and Flipkart now brings this exceptional phone at an exceptional price to our customers."
Magnus Ahlqvist, GM of EMEA and Asia Pac, Motorola Mobility commented –"We think everybody deserves to experience mobile Internet at its best, and price shouldn't stand in the way of anyone owning a technologically advanced smartphone.  Moto G promises its users a best-in-class mobile experience at an unbelievable price and we couldn't think of a better launch partner than Flipkart.com, India's largest e-commerce marketplace and a leader in smartphone sales in India."
Specifications of Moto G
4.5" 1280 X 720 HD display with 329 ppi
Android 4.3 Jelly Bean
1.2GHz Qualcomm 400 processor
Adreno 305 GPU
1GB RAM
8/16 GB internal storage
5 MP rear camera
1.3 MP front Camera
2070 mAh battery
65 GB Google Drive storage
Dual SIM
For More Stay tuned with   Intellect Digest India   and like us on   Facebook   or follow us on   Twitter  .
More related stories below: