Smartphones have made it pretty easy to work on-the-move. However, this is not limited to writing or editing on documents. You can also print directly from Andriod phone or tablet devices. You will need a printer but it is not essential to transfer stuff to your PC. The printer doesn't have to be Wi-Fi enabled either. Read more to find about How To Print From Android Smartphone Or Tablet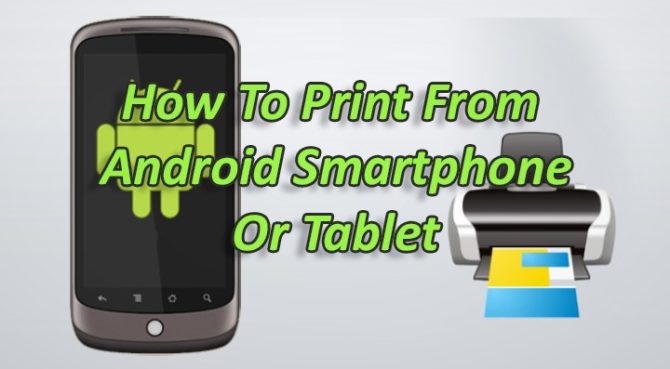 Google had added a cool functionality that allows you to print from Android devices wirelessly. Google Cloud Print allows you to connect your printer with the internet. All you have to do is register your printer and link it with Google Chrome account and your smartphone. This method is very helpful if your printer doesn't support Bluetooth or WiFi connectivity options. Let us help you with the setup:
How To Print From Android Smartphone Or Tablet
Log in to Google Chrome.
Click the Menu button at the upper-right corner of the window.
Navigate to the Settings.
Choose advanced settings.
Scroll down to the Google Cloud Print section and click Manage.
Click Add Printers
Now, choose from a shortlist of all available printers.
After checking the ones you want to add, click Add Printers.
Your printer should be detected now.
That's it.
Note: If your smartphone or tablet does not come pre-loaded with Google Cloud Print, you can easily download the app for free. Also, make sure you use the same Google account everywhere.
Also read: How To View Missed Notifications On Android Smartphones
You won't have run the Google Print app in order to print from Android. It works like an extension. Just choose a document or picture you want to print (from Google Drive docs or smartphone storage). Next:
Choose the Menu button (the three dots in the top right corner).
Click Print.
A new page will open.
Click the down arrow (next to 'Save as PDF').
Select the printer you want to print from.
That's it, click the print button.
Also read: How To Legally Listen To Audible Audiobooks without a Membership
How To Print Web pages and Gmail messages
Open Gmail or Google Chrome.
Choose a page you want to print, select the Menu button (three dots).
Choose the Print option.
Next, the printing page will open.
Choose a printing device and click print.
That's it. You are done.
Also read: How To Unlock Your Android Smartphone With Your Fitbit
We hope you found this tutorial useful? Let us know in the comments section below!
More related stories below: