Quite often laptop audio can be hard to hear. However, there's an easy fix without using third-party apps. Read more to find out How To Increase Mic Volume In Windows 10 PC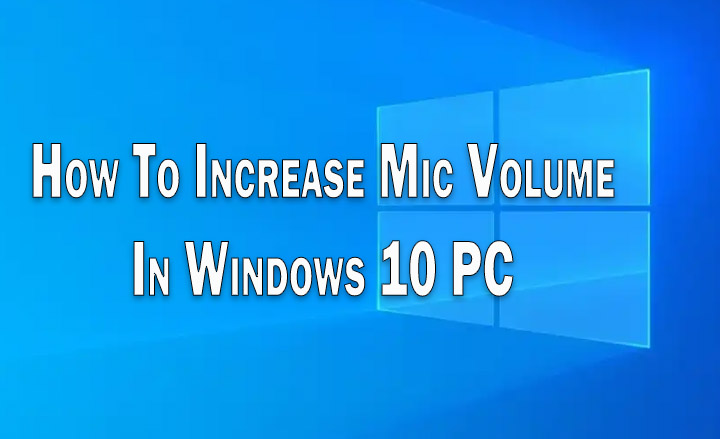 Windows 10 PCs come with settings that allow users to adjust the system volume. You can access this option through System Settings or Control Panel.
First, let's take a look at the way to adjust your mic volume through the Settings app, which can be accessed from the Start menu.
Also Read: How To Set Up Amazon Passkey On Web Browser
How To Change Mic Volume In Windows 10 PC Via Settings Option
Open the Start menu and choose Settings.
Now, select System.
Then, choose Sound on the left side.
Next, in the Input section, pick a microphone in the drop-down list,
Now, select Device Properties (for a headset with a mic, this option is called Device Properties and test microphone).
Next, use the Volume slider to increase the microphone volume.
That's it!
Also Read: How To Protect IP Address In WhatsApp Calls
Now, let's take a look at the second option to adjust the microphone settings on a Windows 10 PC.
How To Change tMic Volume In Windows 10 PC Via Control Panel
Open the Control Panel and choose Hardware and Sound.
Next, select Sound.
Then, open the Recording tab.
Now, right-click the Microphone and choose Properties.
Then open the Levels tab and use the slider to change the volume/ enter a higher number in the text box to increase it.
Next, select OK to close each pop-up window and apply the volume change.
That's it!
Also Read: How To Use WhatsApp Account On Second Phone
Conclusion
In conclusion, to boost microphone levels in Windows 10, go to Start > Settings > System > Sound. In Input, make sure the mic is selected and then choose Device properties. Finally, select Additional device properties, go to the Levels tab, adjust Microphone Boost, and select OK.
Also read: How To Check If Your PAN And Aadhar Are Linked? If Not Linked, How To Link It?
We hope the above-mentioned article was helpful. Let us know in the comments section below.
More related stories below: