Nokia has been doing just fine in the smartphone segment but it is the feature phone market that brings them the maximum number of volumes and keeps them right at the top when it comes to the number of devices shipped. MWC is the time when company's display their prowess and Nokia after showcasing their smartphone strength have displayed as to why are they the kings of the feature phone segment. Nokia has announced at the MWC two new feature phones, the 105 and the 301.
There's not much that in the 105 to talk about. It comes with a brightly coloured screen and features a flashlight, FM radio, multiple alarm clocks, speaking clock; a dust and splash-proof, pillowed key pad and a flashlight. But the only reason why it would sell like hot cakes is that Nokia claims it to have a battery life of 35 days and in real life, it will translate into a standby time of atleast 25 days. It makes sense for the rural folks in India who do not get electricity very often. It will come at a price of around Rs.1,000 which would make it kind of a steal.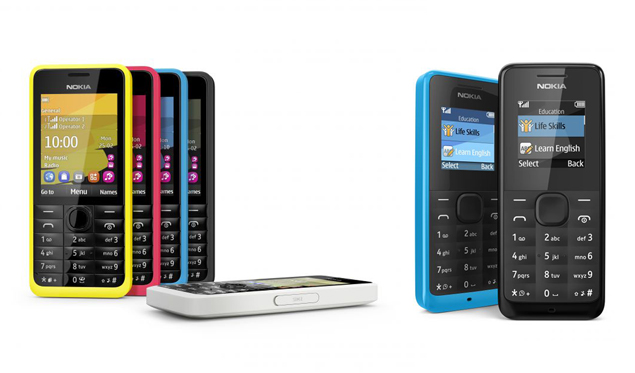 At the launch event, Stephen Elop, President and CEO Nokia stated, "The momentum behind Nokia is gathering pace. The launches today reflect our commitment to broadening our devices and services portfolio to meet the demands of people and businesses around the globe. By offering better experiences at a more affordable price we are reinventing the battle for affordable mobile devices, and Nokia has the building blocks to win." The feature phones borrow their colour schemes from the expensive Lumia range of smartphones.
Nokia 301 is like the iPhone of feature phones( no pun intended). It comes with a 3.2 MP camera which has some pretty cool features like the panorama, sequential shots and something I have never seen before at this price or any price- A Voice guided self portrait mode. It will feature Nokia Xpress browser and 3G connectivity. The device can be yours for a price of around Rs.4,500 starting the second quarter of 2013. Nokia is covering their smartphone base and now is covering their feature phone base. And they are back.
Also read – Nokia Lumia 520 And 720 Launched At MWC 2013 Officially
More related stories below: