Sony had launched Xperia Z earlier this which was company's first waterproof and dustproof flagship model with top notch specifications. Though late we finally have a review and a cool demo of the demo of the water dunk, dust resistant test and shatter proof test of the android device. More can be read below in the review.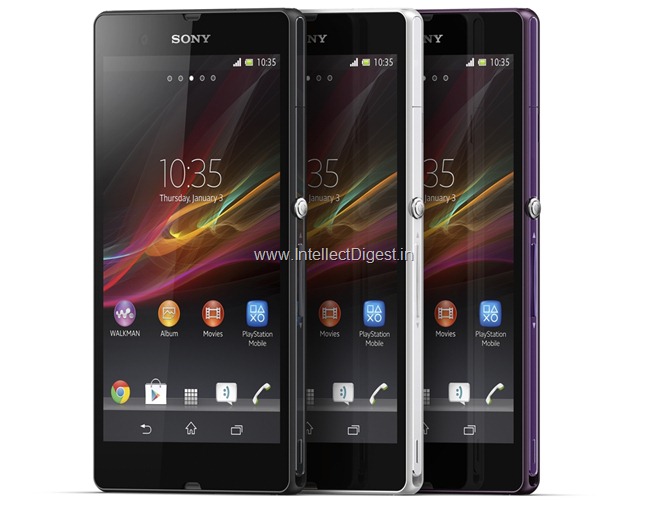 Design:
Sony Xperia Z comes in White, Purple and Black color options. We got the white color model to test and it looked pretty good. We tested the device for a week and at first the pointy edges were a little poky but as with the use it became really suitable for use. It comes with a earbud with 3 different buds to fit your size, USB charger which includes the data cable as well and the usual user manuals.
Display:
Sony were not so known for displays and in-spite of this being their flagship device they are still not able to reach up to that level. the viewing angles are really poor but it looks good from the front. The outdoor visibility of the LCD display is also not so great even on full brightness. It has the mobile bravia technology which makes consuming media content a breeze on full HD.
Camera:
Camera being one of the USP of Sony devices we have 13.1MP camera on the device which takes finest pictures sometimes with 4128×3096 pixel resolution but it depends on the lighting conditions. It can shoot full HD videos up to 1080p and has a 2.2MP front-facing camera for video calls, skype and hangouts.
Hardware:
Hardware technical specifications of this Android device are too good but a little outdated as of now. It is powered by Qualcomm Snapdragon S4 Pro quad-core 1.5GHz processor having 2GB of RAM. It comes with 16GB internal memory with support for external microSD card up to 64GB. It has a 2330 mAh capacity battery which keeps the handset working for 12-15 hours with normal usage. The full HD screen was found to be the primarily battery hogger because of its high resolution taking all the juice.
Software:
Sony devices comes with a their own nex-gen UI layering. The UI design is simple and neat keeping it easy for users to adapt. The user interface does not consume a lot of resources being a favorable by some. It runs on Android 4.2.2 Jelly Bean but came with 4.1.2 out of the box.
Price:
Sony Xperia Z comes for Rs. 33,985 from Flipkart and approximately the same from other leading online retail outlets and stores across the country.
Conclusion:
Sony Xperia Z is a good smartphone to have with good hardware specifications and camera. It packs 2GB RAM and 1.5GHz Quad-Core processor which makes muti-tasking an easy deal for the device. The chipset is same as found on Nexus 4 which was launched last year and by looking at that we think that it is a little outdated. Sony had delayed its arrival which has affected it's sale. It is water resistant, dust resistant and has shatterproof display which stands true as you could see in the video above. Price for this device, we will say is too high 34k for this is definitely not worth because we can have a lot better options now. If the price goes down to say 25-27k it might be a good option to buy this phone as it features a full HD display with a decent cam and unique build along with all the resistant features but only if the pricing is right.
More related stories below: