Google Play Protect Now Feature is now being rolled out to Android Devices. It can be found in security settings. The search giant announced its Google Play Protect feature at Google I/O earlier this year. The Play Protect card is soon expected to show up in Google Play. Worried about malicious applications with hidden malware. Google has a new solution. Read more to find about Google Play Protect Feature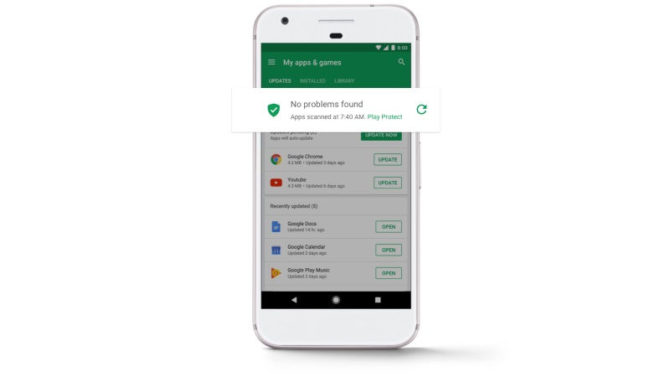 Android devices are known to be vulnerable to malware and other malicious applications. Certain security holes in the Google operating system allow malware to access your different sections of your device. In some cases, your smartphone can be accessed remotely without your knowledge. Finally, Google has decided to do something about these security vulnerabilities. The new feature will prevent users from installing harmful applications that can potentially compromise their security. Basically, it warns users about unsafe apps. Google claims that the malware scanning feature will significantly improve the security of Android devices.
Also read: How To Set Up Your New Android Smartphone Quickly
Google Play Protect
The Google Play Protect notifies you when a particular app starts behaving abnormally or is considered unsafe. It automatically scans your apps in the background to ensure that they are safe. You can also manually ask the feature to detect an abnormal app behavior.
"Play Protect is built into every device with Google Play, is always updating, and automatically takes action to keep your data and device safe, so you don't have to lift a finger. All Google Play apps go through a rigorous security analysis even before they're published on the Play Store – and Play Protect warns you about bad apps that are downloaded from other sources too. Play Protect watches out for any app that might step out of line on your device, keeping you and every other Android user safe." – the company said in a blog post.
Also read: How To Fix Insufficient Storage On Android Smartphones
Availability
Apparently, the new feature is being rolled out to Android smartphones running Google Mobile Services 11 or later. It will be essentially available for all devices with access to Google Play. However, it will take a while for Play Protect card to show up in the Google Play Store app. How To check if you've received Google Play Protect? Just go to Settings > Google on your smartphone.
Also read: How To Install New Android O Launcher On Your Smartphone
Conclusion
With over 2 billion monthly active Android devices, the new security feature can prevent a large chunk of users from malicious apps. The search engine giant claims that the Google Play Protect performs daily scans and notifies you about any abnormally behaving or unsafe app. The new feature will scan up to 50 billion apps a day to look for potential risks. The Google Play Protect will roll out to all devices with Google Play in the coming weeks. Stay updated check your security settings!
Also read: 10 Best Security Apps for Android Devices
More related stories below: